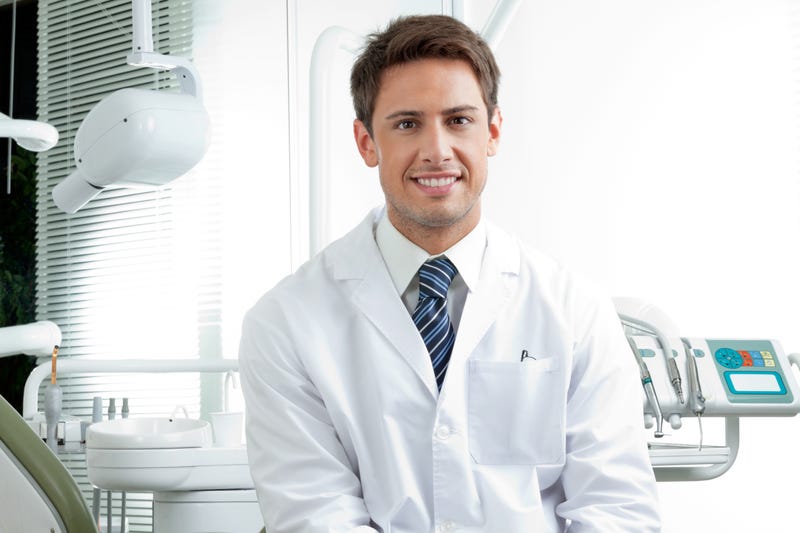 Dr. James Willian is a albany dentist who has been practicing local Albany dentistry for more than 31 years. He completed his undergraduate studies at the University of California in Berkeley and then went on to obtain his dental degree at the University of the Pacific in 1985. After dental school, he completed his general practice residency at Valley Medical Center Fresno in June 1986.
Students who strive to get into medical school one day often major in premedical sciences during their undergraduate careers. Students don't have to major in premedical sciences in order to get accepted into medical school, but premed programs often prepare students for the rigors of medical school better than other majors, especially majors outside of the field of science. Most premed programs are structured very similarly and offer a wide array of science classes that will prepare students for medical school and for the MCAT, the test students must take in order to be considered as a future medical student.

Courses for students who major in premed are geared heavily towards the sciences. Students who graduate with premed degrees have often spent countless hours in the laboratory and doing fieldwork that has molded their minds to think like a medical professional. Courses that students take include biology, chemistry, physiology, anatomy, and other disciples of science. Students also study English, grammar, speech, foreign languages and history to develop a well-rounded education. Medical schools look for students who show an aptitude in their science courses but also can produce quality work in their non-science courses, and don't simply excel while in a lab.
College students who major in premed take all of the prerequisite courses for medical school, but also take a variety of other science courses. The prerequisites for many medical schools are two semesters of biology, two semesters of chemistry, two semesters of physics, and 1 semester of organic chemistry. All medical schools have different prerequisite courses, but they all require a skeleton of science courses.
Premed programs allow students to take these courses and earn a degree at the same time. Students will take all of the prerequisite classes, but they will also delve deeper in the science department and be able to take higher levels of biology, chemistry, organic chemistry and physics. Students have the choice to specialize in different science departments and take lab courses that give students hands on experience with laboratory tools and procedures.
Lab hours are often a prerequisite for many medical schools as well. In order to apply for medical school, a student doesn't have to be a premedical science major. Students can major in anything that they would like to, but still have to take the entire required prerequisite course to apply for any medical school in the United States.
High school students can also prepare for medical school by taking science courses in high school. They can also audit a few science courses at local colleges during summers to gain more experience, or shadow doctors and other medical professionals. High school students can also begin volunteering and get into the habit of working in the community.
Medical schools like students who have volunteered throughout college and if high school students get into the habit of helping out their community early, then they will stick to it during their busy college years.
Medical schools can be picky when it comes to choosing new students for their programs. Some schools have a less than fifty percent acceptance rate, but students who have shown an aptitude in their premed courses and have completed their degree have a good chance of securing a spot in a medical school.
College Interview Day Programs
All college schools have different interview processes. Many will give you a tour, feed you lunch and interview you in the same day. To give you some perspective, I will tell you about my personal experiences with interviews. My first day consisted of two interviews. One was in the morning and one was at lunch. Both were with a medical student. I did not get the tour of the school, and I was only able to talk to one student.
My next interview was at Washington University. This one was much different. The interviewees were allowed to have a pizza party with the students the night before our interview. The next day we got tours of the medical schools and hospitals. We then had an amazing banquet lunch. All of the interviews occurred throughout the day at various times. I was only able to talk to one student here as well.
The next interview I had was at Baylor and it was quite unique. There was a total of five interviews that lasted two days. I had three interviews with faculty staff as well as two interviews with medical students. At Baylor we were fed lunch as well as dinner. We also had question and answer sessions with medical students. We got a tour of the medical school and the affiliated hospitals as well as shown a great slideshow about the college history and awards. Here they had nailed the premed school requirements I was looking for.
Next was Northwestern. Their process is also quite unique. There was a total of two interviews. One was with a dean, the second one was a panel interview. In the panel review there were three interviews going on at the same time. It was almost like a gameshow. We then went for lunch with a medical student that we got to ask questions. After lunch we got a tour of Northwestern medical center.
You will be nervous, but it is okay!
At my first interview at Mayo I was extremely nervous. I was a little red in the face because I was super nervous. But as I had more experience with interviews I learned to relax and calm down. There really sometimes is no way of avoiding this.
I think everyone gets the jitters at their first interview. You just can't avoid it. The best thing to do is to first practice with a friend or family member. Go through a mock trial of an interview you are planning on going to. This will ease your tension when you are really sitting down for the interview. You can say to yourself 'I have done this before' and nail the interview.
The worst is when you're so nervous you forget your interviewers name. To help with this bring a note pad with you so you can write down their names as soon as you sit down. Sometimes they will provide you something with their names attached to it. You can always use this as a reference when you forget their name.

Another thing that many students will experience is cold and sweaty hands. People always worry about going into their interview and having to shake hands with their interviewee when their hand is soaked in sweat. There is no solution to sweaty hands but to only go into your interview confident and optimistic.
Be sure you shake your interviewees hand when they great you. Give them a big smile and wait for them to start talking to you. If you happen to have those weird ones that just sit there and stare back at you, then please do start asking them questions. Don't let the interview become some awkward meeting.